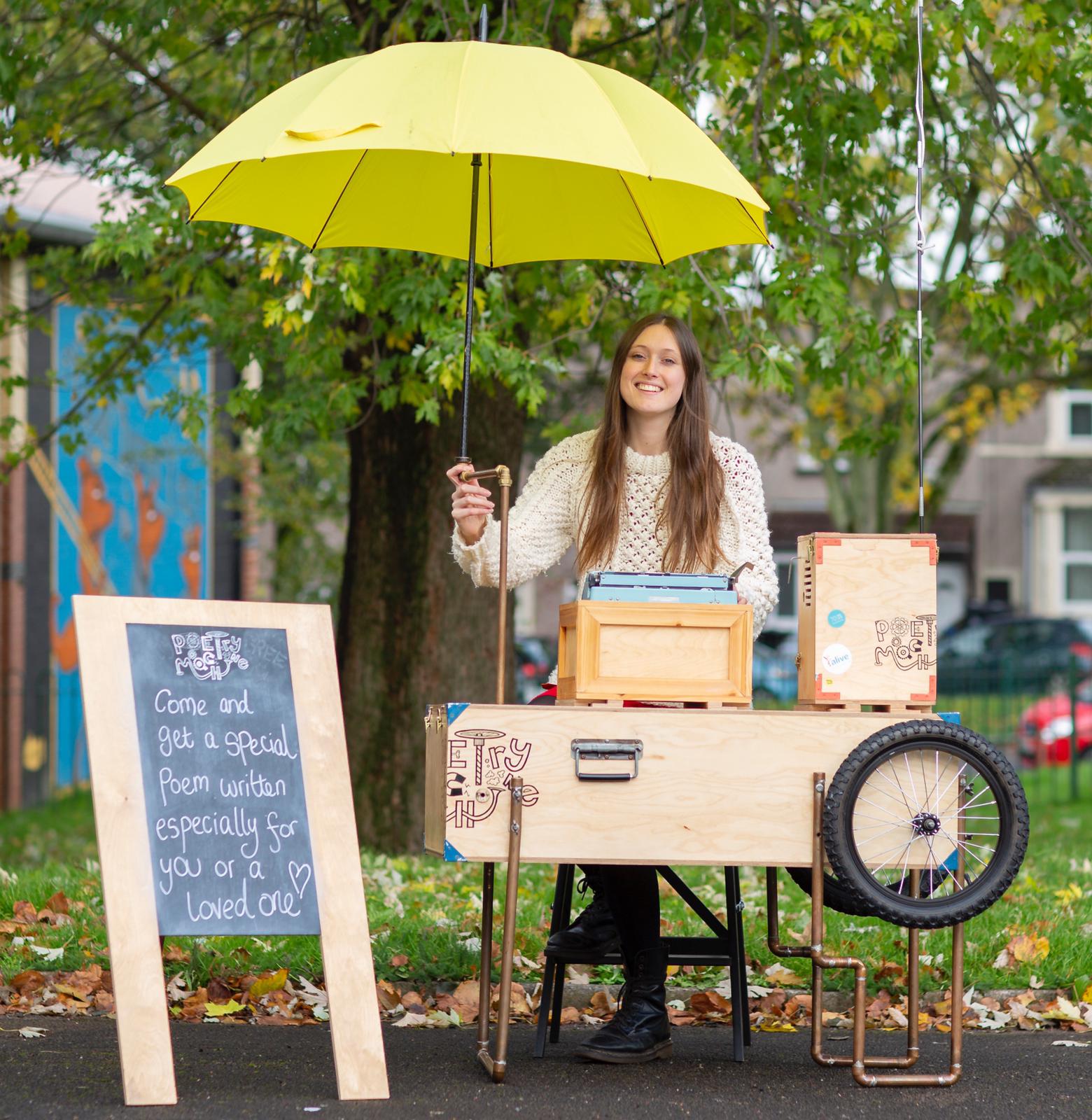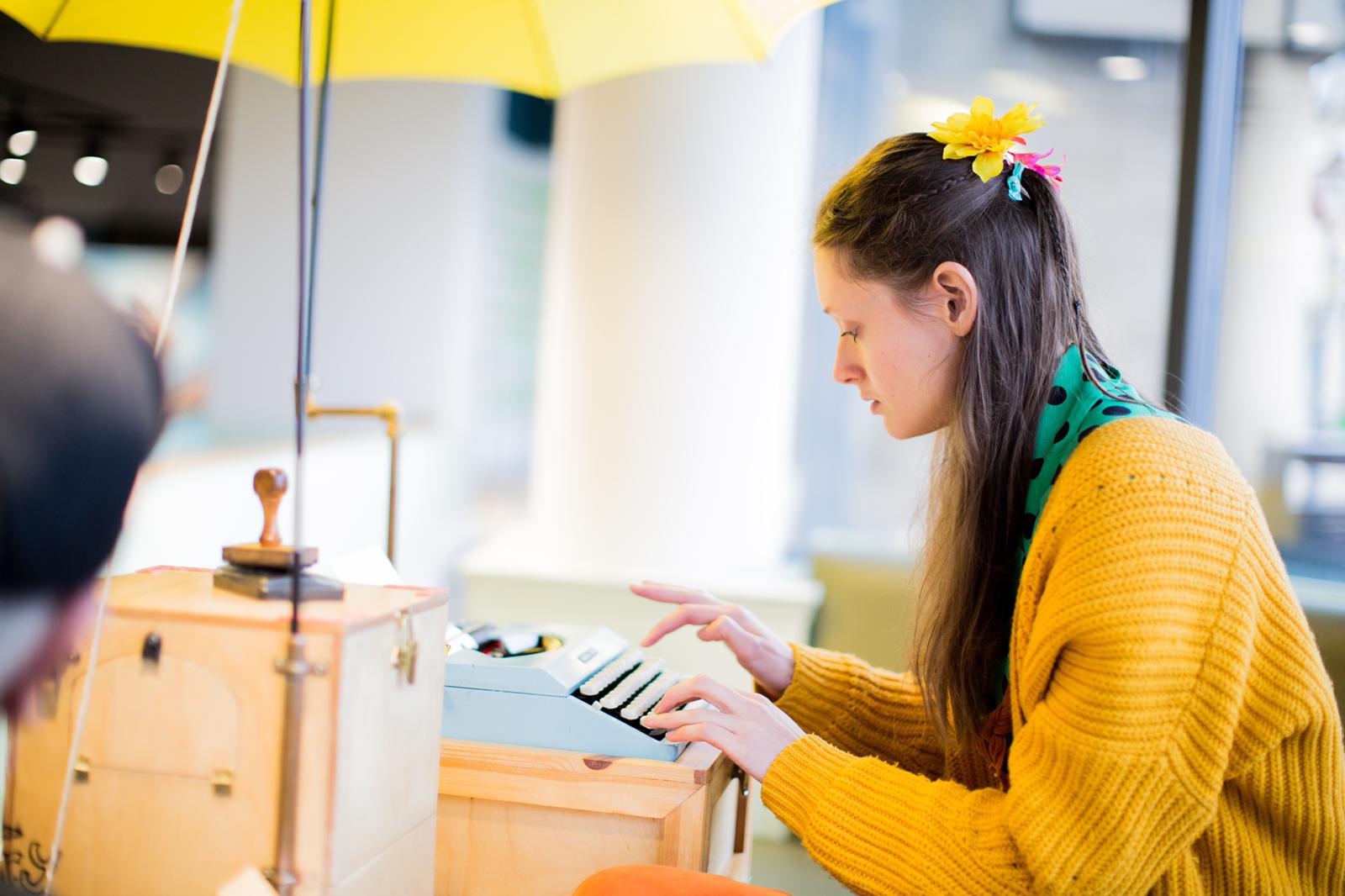 Beth Calverley co-creates poetry with community members, gently empowering them to express their thoughts and feelings. She sets up her intriguing poetry machine in places of work, learning, care and play, weaving people's words into beautiful typewritten poems.
Beth has worked with Sky, BBC, ITV, and many more. A poem commissioned by the Bristol International Balloon Fiesta was viewed 60K times. She has live-crafted poems on BBC 5 Live for National Poetry Day 2020 and Valentine's Day 2021. She is Poet in Residence at University Hospitals Bristol & Weston NHS Trust and was published in These Are The Hands, the NHS anthology endorsed by Stephen Fry. Beth was also the Bristol Poetry Festival Poet for 2021, a Bristol Life Awards Arts Finalist 2020, and a Roundhouse Slam Finalist 2018. 
Beth's debut collection, Brave Faces & Other Smiles, launched in 2020 with Verve Poetry Press. Benjamin Zephaniah described it as "a great collection with an honest, real theme."
A quote from Beth"I can't wait to listen to local community members, workers, and visitors, co-creating poetry that reflects their memories and hopes for Colchester. It's so exciting that the poetry will be projected into light. The location of this artwork is a historic part of this beautiful town and it's an honour to be part of this project. See you soon!"
Dates/times: 
Saturday 11th September – 3pm-8pm 
Sunday 12th September – 11am-4pm
Please can you provide the location details for each day?
Who's welcome?
Everyone is welcome to take part. You can pop by on your own, with friends or loved ones, or bring a community group or organisation that's important to you. Each session takes around 20-30 minutes, depending on the number of group members. 
Optional addition: The Sunday sessions are drop in, but if you'd like to pre-book a time-slot on the Saturday, please email [insert email] with your availability between 3-8pm on Saturday 11th September.
Light and words…
As part of wider redevelopment of the site, Lion Walk is enhancing the wayfinding and placemaking of the centre. Beth Calverley of The Poetry Machine and design studio f.r.a. are collaborating to create a graphic activation, combining words and light at the entrance from the High St. This is an important historic location and the work will highlight the importance of Colchester's community & heritage.
Your very own poem…
Follow the tapping of typewriter keys and flurry of bubbles to find The Poetry Machine. Beth will ask you about your thoughts, feelings, memories and hopes for Colchester. She will weave your words into a beautiful, unique poem, live in the moment, and give you the original poem to keep.
Inspire future artwork…
A copy of your poem, alongside poems created with community members, will help to inspire a collective poem, woven together by Beth. You'll have the chance to give feedback on this poem. The poetry will be projected in light, meaning that you'll be able to walk through your words…