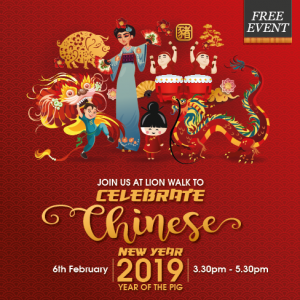 Lion Walk Shopping Centre will be marking Chinese New Year this year with a range of activities and events to celebrate the renowned festival in style.
The activities will take place on 6 February from 3.30pm, the day after the Chinese New Year which is traditionally a family day followed by a week of celebrations.
For those looking to kick start their year, the Chinese New Year celebrations will certainly add some colour and flair and be a visual treat for customers.
The multi-talented Chinese acts will offer high impact, attention grabbing performances including fabulous stilt walkers in traditional garb as well as energetic Giant Doll heads performing their captivating ribbon dances.
A historic performance for the Chinese New Year, the Dragon dance will also take place which is performed to scare away evil spirits and drummers will build the energy during the performances.
We look forward to seeing you there!